The fifth and sixth murals as part of the Colour The Capital project have been unveiled in Waltham Forest and Tower Hamlets in partnership with Global Street Art.
The fifth mural located on 70 Salop Road was designed by the uniquely talented Seb Lester with his signature calligraphy style implemented in this piece.  With work carried out with some of the world's biggest companies, publications and events, including the likes of NASA, Apple, Nike, Intel, The New York Times, the mural has become a stand out piece in the ever developing Walthamstow area.
The mural was inspired by the Quote taken from the folk song 'First Time Ever I Saw Your Face' by Ewan MacColl and adds to the growing street art movement taking place in Waltham Forest.
Our most recent mural from the Colour The Capital Project was that of Barcelona based Pez found in Brick Lane. This wall, placed up in the alleyway leading to Star Yard off of Brick Lane captures Pez's philosophy of spreading the message of happiness and joy.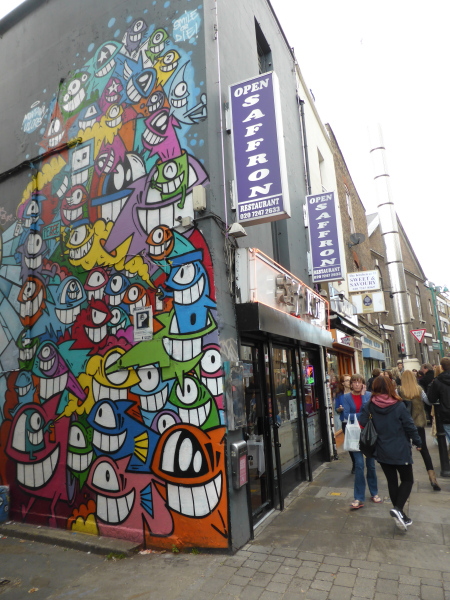 The artist Pez whose name translates as "fish" was born after one day signing his work with a smiling fish which then became the basis for his future work. Searching for a universal way to speak to the masses, the animated smiling fish became a way to give off a sense of positive energy and a friendly feeling to passers-by. The vibrant images Pez creates cannot be understated in their positive effect to the surrounding area and undoubtedly at times you do find yourself smiling at these happy creations.