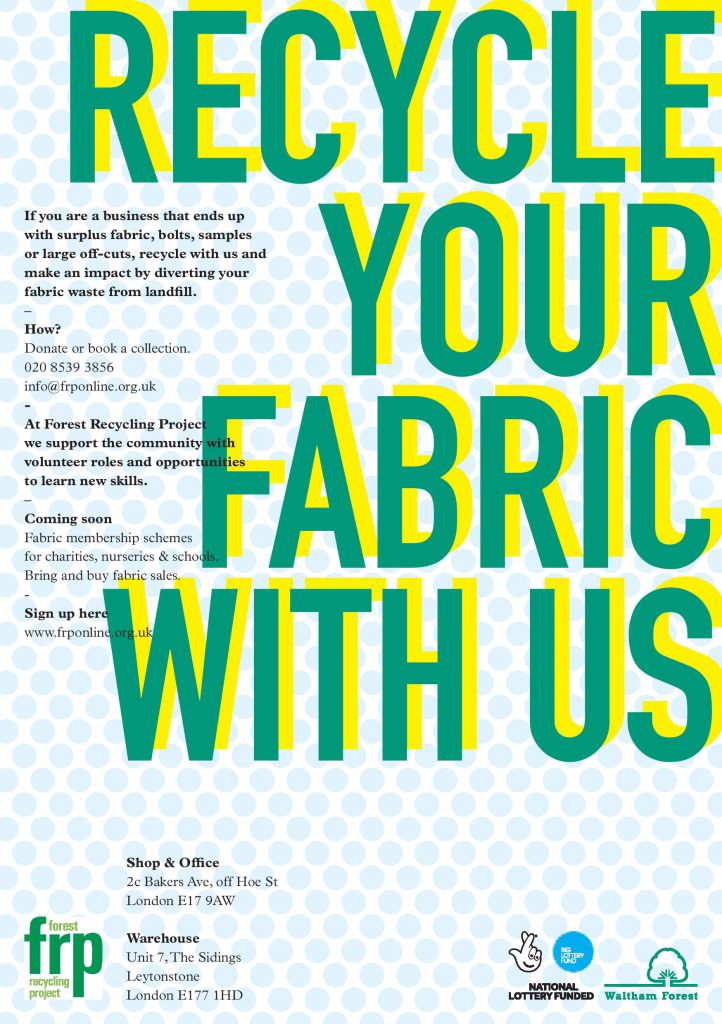 FRP Fabric is our new recycling and re-use project and our mission is to protect the environment and divert surplus and waste fabric away from landfill and invest in local community projects.
"It is estimated of 400 billion m2 of fabric made every year, 60 billion m2 ends up on the cutting room floor." Greenpeace, 2016.
If you are: 
a London-based sole trader or a small, medium or large company (e.g. upholsterer, exhibition company, film production company, home-ware, interior designer, fashion designer, theatre, architecture or design company) that produces surplus or fabric waste, such as unwanted bolts, end-of-line pieces and samples.
Donate and recycle with us.
Book a collection with us, email: info@frponline.org.uk or call 020 8539 3856, or donate your fabric to us Tuesdays-Fridays between 10am-4pm at our shop at 2c Bakers Ave, off Hoe Street, London E17 9AW.  All funds go directly into sustaining FRP as a charity and social enterprise, providing and running our volunteering opportunities and avoiding landfill through our collection scheme.
One of the biggest environmental impacts is clothing and textiles. When disposed in landfill, dyes and chemicals in fabric can leach into the soil, contaminating both surface and groundwater. FRP Fabric seeks to offer an intervention in the chain of fabric production, to reduce an impact on landfill and CO2 emissions and offer an alternative end-of-life system for waste fabric. 
Surplus and waste fabric donated to FRP Fabric is made available for reuse, through
1.Volunteering Opportunities
By providing volunteering opportunities for adults with a wide range of special circumstances to work with FRP Fabric to learn about sustainability and gain new skills in making. These take place every Wednesday and Friday, for 2.5 hour weekly sessions. Click on link above to complete the necessary form, or email for more information on info@frponline.org.uk or call 020 8539 3856.
We work with local communities, offering meaningful volunteering opportunities to gain experience in the sustainability sector and provide corporate volunteer sessions tailored for companies interested in CSR programmes. Email for more information on info@frponline.org.uk or call 020 8539 3856.
2. School Fabric Resource Membership
Sign up for our new schools membership scheme for Early Years, Primary and Secondary and FE school settings, where you can access fabric as a resource for creative projects, for performance, plays and PTA seasonal events or creating safe zones in nursery settings. By purchasing our membership you are supporting us to engage in meaningful skills-sharing opportunities with our volunteers.
3. //Coming soon// Bring and buy sales
By hosting bring and buy sales for the general public, including students, artists, crafters, quilters, sewers and designers, to shop fabric by weight to ensure affordability. Sign up and be the first to know about our next 'shopping event'.
Collaborate: FRP Fabric always seeks to collaborate with other organisations to try and effect positive change. If you would like to be part of that change, email us at info@frponline.org.uk.
You too can help us, by:
Taking your unwanted clothing and shoes to your nearest charity shop, or book a free home collection with 

TRAID

.
Learning how to sew, follow patterns, and make clothing with Waltham Forest's very own 

Cheekyhandmades

.
Finding some great tips on how to refashion and upcycle your clothing at

LOVE YOUR CLOTHES

.