Forest Recycling Project is hosting a free paint giveaway on Saturday October 20th at their Paint Place warehouse in Leytonstone, East London.  With winter just around the corner this is a great chance to get in a bit of decorating before the chill bites.
Visitors will have the opportunity to take away up to 20 litres of free paint, with various types and colours of paint on offer.  With brands that include Dulux, Leyland, Crown and Johnstones in stock, the chance to source some high quality paint is an occasion not to be missed.   With a typical pot of paint on the high street costing £10-£30, each attendee could save up £100.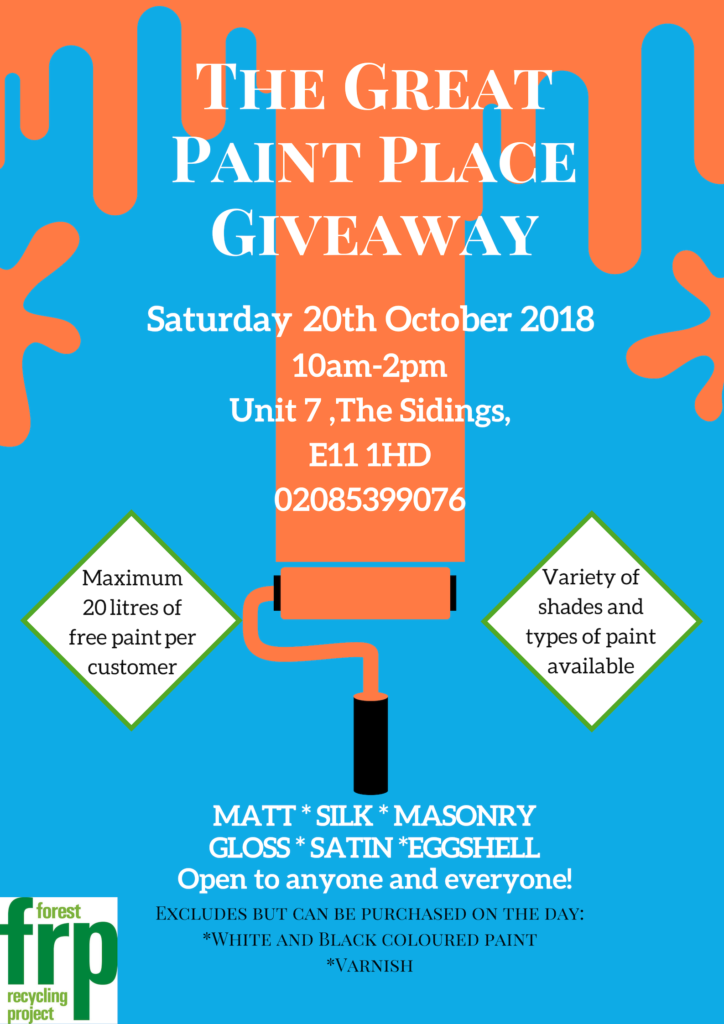 As well as the financial savings the environmental impact by reusing paint would be significant.  1 litre of paint reused reduces co2 emissions by an estimated 2.4kg as well as diverting 1.4kg away from landfill.
Paint Place operations manager Nilesh Patel states "We want to promote the concept of reuse and highlight the environmental impact paint can have if it reaches landfill.  Paint is made up of highly toxic chemicals so the more paint we reuse the less chance of contamination of our water supply through landfilling.
If visitors want to take more than their allocated 20 litres they can purchase extra paint from £1-£2 a litre.
The free paint offer excludes white/black coloured paint and any varnish however these paints can be purchased independently on the day
The event will be held at Unit 7, The Sidings, E11 1HD.  10am-2pm