* Volunteer case study: John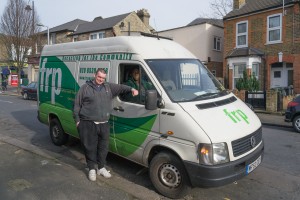 John has been volunteering as a driver's mate for several years. He has built up a very good rapport with our drivers who are very grateful for his knowledge of local roads and memory for business addresses they regularly visit.
John originally started volunteering because someone supporting him through depression thought it would be a positive change of scene. He also wanted to do something which would provide exercise and improve his physical health.
There was a phase when John stopped coming so regularly but after talking to him about what he finds most rewarding and planning his rota with the driver, he has become a very reliable volunteer, doing extra days and regularly staying late to make sure the job is done.
John explained that volunteering for FRP 'is keeping me active, it is the most regular exercise I do. I've been off medication and feeling alright now.'
 * Volunteer case study: Keith
Keith is the longest standing volunteer at FRP and has given his time to many of the roles which are necessary for the smooth running of FRP. He enjoys working as a driver's mate and reclaimed paint warehouse assistant.
Keith said: 'If I wasn't volunteering I wouldn't be getting up early in the morning. Talking to customers about recycling different things is good for myself and people around me. It's good for me to be busy and travel a bit and meet different people'.
Keith has fully benefited from FRP's partnerships with other local environmental organisations. Our one-to-one review sessions to talk about his experience at FRP and find out what most interests him, has led Keith to successfully complete an NVQ level 1 in horticulture through OrganicLea at Hawkwood Plant Nursery.