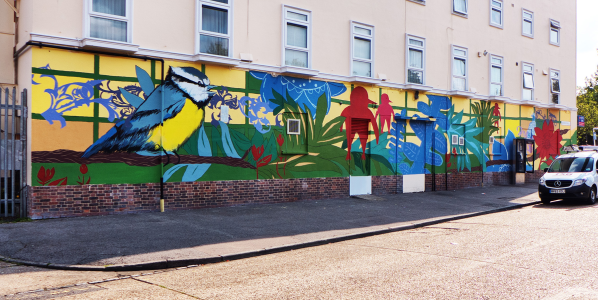 In September 2012, local residents were invited to the reopening of the award-winning William Morris Gallery in Walthamstow.
Following this visit the Board of Friday Hill TMO agreed that we should try and also celebrate the work of William Morris at Hatch Lane. The vision developed to paint a mural in the William Morris theme on the Hatch Lane Shops wall (Ashwood Road).
Friday Hill TMO commenced work on this vision and contacted the local school, Longshaw Primary School, with the aim that the children would visit the gallery and draw some designs. In January 2014, Friday Hill TMO obtained a grant from Hatch Lane Community Ward forum to fund this project.
Two artists from Forest Recycling Project, Alice Cunningham and Frances Copeman, worked with the Gallery and children at Longshaw School to develop 3 designs which were forwarded to key stakeholders in the area and following a consultation the design which has been painted on this wall was selected.
The mural has been painted using reclaimed paint, thereby helping the environment.